Roubo Workbench
After getting Chris Schwarz's books on workbenches for Christmas a couple years back, I decided that a cheap but sturdy workbench would be a great addition to my shed. I decided on the Roubo style workbench from Chris's book with a few modifications to the design.
I utilised Chris's lamination method for constructing the legs, rails, and worktop using timber from my local Jewsons. The staff were very helpful and allowed me to pick and choose the straightest and most knot free timber. Chris's design used 2x10 Southern Yellow Pine stock but that is not readily available here in the UK so I was chose to use 33mm thick pine of various widths.
My major deviation from Chris's design was to cut the holes for the mortices before lamination, rather than chisel them out after, where possible. This proved to be pretty successful.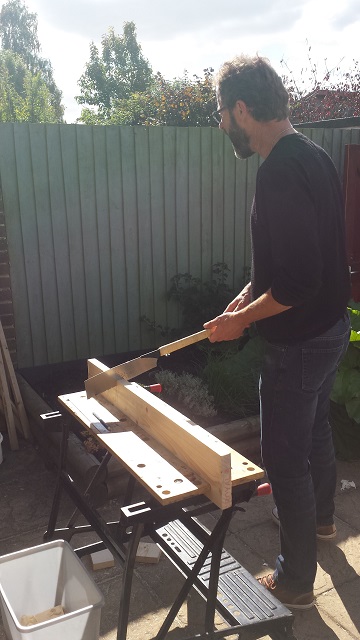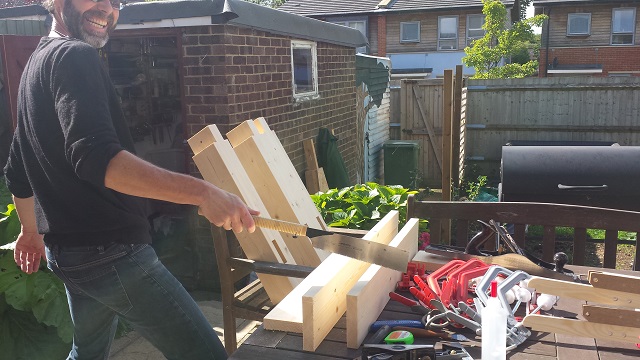 Paul pre-cutting a leg mortice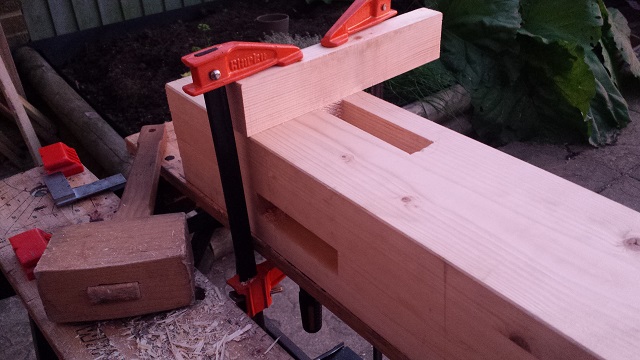 Squaring up the mortice edge on a laminated leg.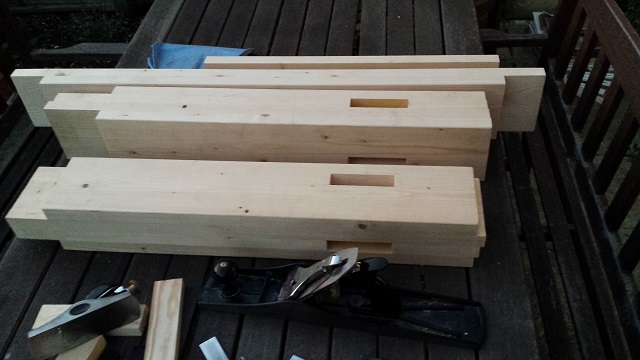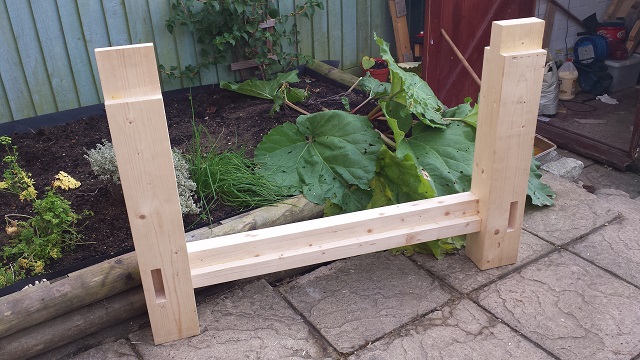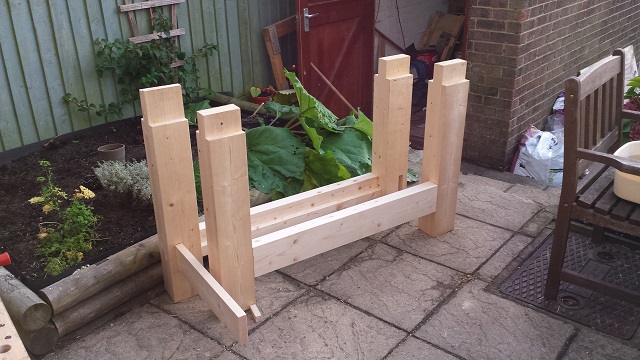 All work up to this point was carried out in autumn 2015, however a busy spring and summer meant that work on the bench was not restarted until autumn 2016. Next thing to tackle was the worktop. This was lamintated and cut to size over a weekend whilst the Wife was away with her University girlfriends. Paul and I laminated the top in my dining room. Plenty of glue and clamps needed. we had a couple of dry runs first as we knew the glue would not give us much working time. But we did it :)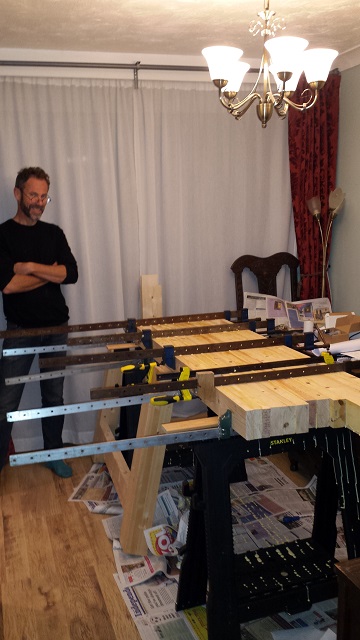 Glued and clamped. Hardly any glue went onto our floor, honest dear......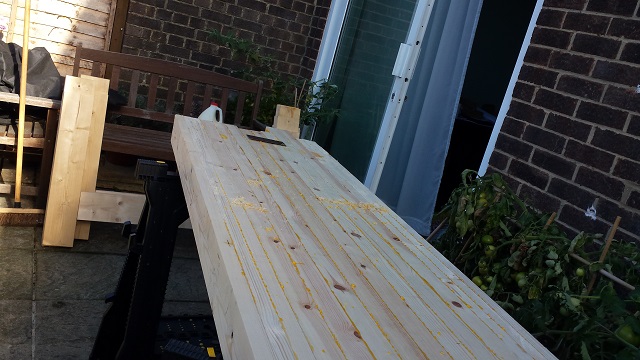 Released from the clamps, the excess glue needs to be scraped off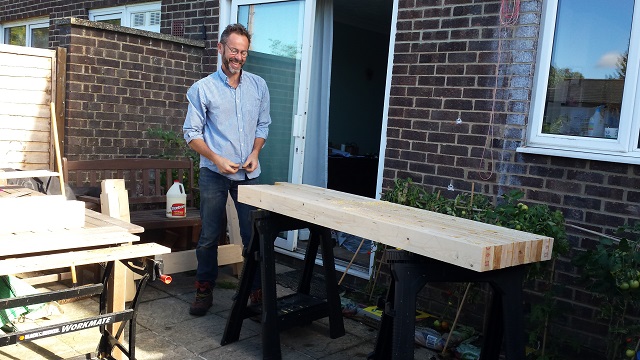 scraped and ready for flattening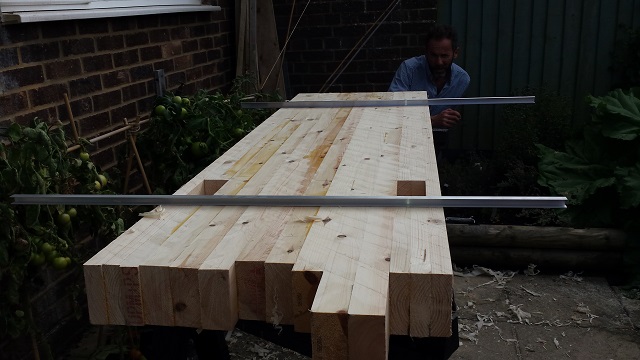 Whilst I built the crosrails, Paul flattened the top by first using a No.5 plane diagonally across the top, finishing off with a No.6 plane along the length. Worked really well giving a nice flat true surface. Here we are using a couple of lengths of alumininum as winding sticks to check for twist.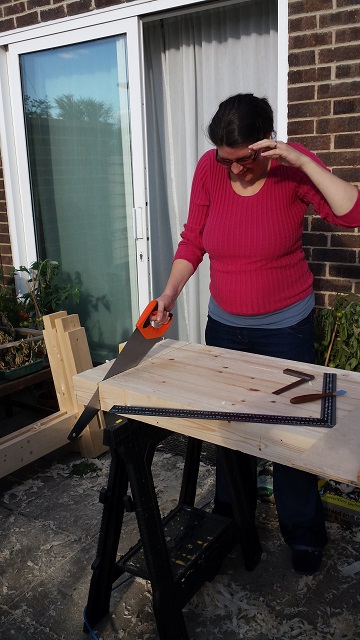 Nicky sawing (pretending) whilst 7 months pregnant.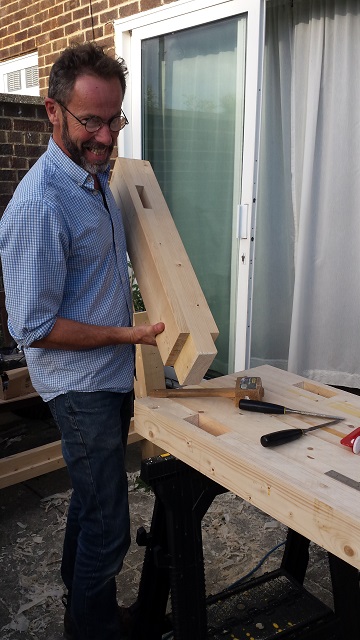 Preparing to try a leg in its mortice. Will it fit?.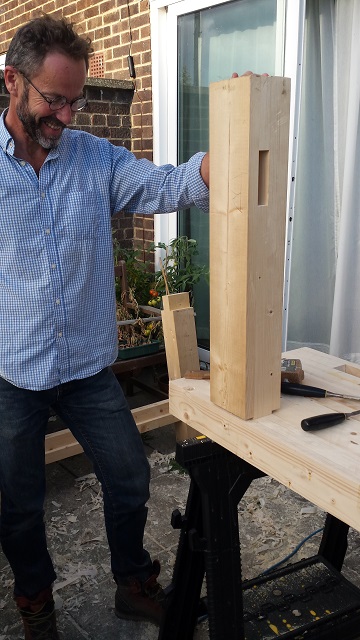 Yes it fits, chuffed to bits..
At this point we ran out of time. So we decided to assemble the bench as is and put it in the shed. Still a fair bit to do including finish the crossrails, glue and drawbore the joints and finally add a vice and dog holes.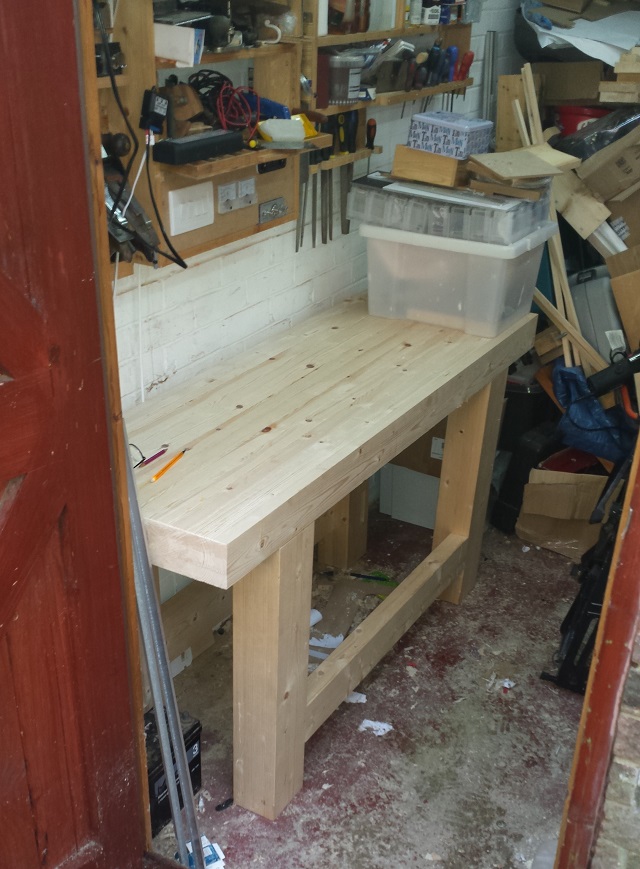 Even without glue and drawbored pegs it already feels extremely sturdy. Will hopefully finish it off in 2017, baby permitting.
Huge thanks to Paul for his help and for putting up with my ramblings and procrastination. Cheer bud :)