News
Mr & Mrs Sinfield
17-09-2009 @ 20:34 - Submitted by: Grazor
Congratulations to Matt & Debbie who tied the knot on Sunday. A lovely day spent with great friends.
Wishing you both a fantastic future together

How to alienate your friends...
02-09-2009 @ 09:14 - Submitted by: Grazor
I had a great bank holiday weekend. It was Nicky's birthday and my good friend Rob came over from Chichester and Nicky's friend Claire came down from London and we all went clubbing. We went to a great little 80s themed club in Southampton called Reflex. Watching Rob throw some shapes on the dancefloor reminded me that I had surrepticiously recorded Rob strutting his funky stuff on my web cam years before.
So ladies and gentlemen, it is my pleasure to present Mr. Rob (Love Machine) White.
WARNING - Please do not attempt to copy these moves
So my cinematography cannot match that of Miss Duffy but it makes me laugh

Conway
02-07-2009 @ 09:26 - Submitted by: Grazor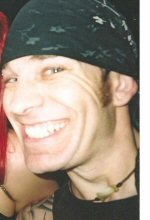 It is with great sadness that I report the passing of a good friend. I met conway through a mutual friend nearly twenty years ago and spent many happy times in visiting him in his various homes in and around London. At that time Conway was working in the music industry and he always had the scoop on upcoming bands. We went to loads of gigs, too many to mention but highlights include walking out of a Yngwie Malmsteen concert due to boredom (although the bass players cello solo was awesome!!!), Guns 'n Roses at Wembley, and the Freddie Mercury Tribute Concert again at Wembley.
Conway was a great keyboard player and we played together in a covers band, rocking out to tunes by Bon Jovi and GnR

. One time, after a typically fun night out in London, we arrive back at Conways flat, plugged in the guitar, keyboard and some headphones and jammed till the small hours. It was one of those jams where everything came together. It was a very, dare I say, sprirtual experience. The headphones isolated us from the rest of the world, there was just the music. I'll always treasure that memory.
Conway became disillusioned with the corporate grind and quit his job to travel and snowboard, spending years in Australia and finally to Canada. Sadly during this time, with both of us moving locations, we eventually lost contact.
I was deeply saddened to learn of Conway's illness and I was pleased to be able to contribute to the charity day organised by his family. The number of people that attended and the amount of money raised was testament to contribution he made in so many lives. He passed away yesterday, in Vancouver, Canada. Sleep well my friend.
Firefox Bug
28-06-2009 @ 21:31 - Submitted by: Grazor
Both Parker and my bro, kev, have reported that my photo album does not work properly with Firefox. Oops that skipped through my error testing.
I will endeavor to write better software in the future.
Le Mans 2009 Photos
23-06-2009 @ 12:31 - Submitted by: Grazor
The photo album for Le Mans 2009 is now available for your viewing pleasure.
it was my first trip to Le Mans and I had an amazing time. I will definitely be going back next year